4/23: IN FOSTER HOME - You scratch. I SNIFF. You had a bad day? I FIX IT. You had a good day? I MAKE IT BETTER. My name is FAITH and I am a 6 year old, female Bulldog Mix. I have the cutest face and the cutest rump you will ever see! I have an adorable underbite in the front and a curly tail in the back! I did arrive at the shelter very skinny. I look forward to getting to a healthy weight with you! You laugh. I WAG. You cry. I UNDERSTAND. You sleep. I WAIT. You wake. I PLAY. You da man. I'M DA DOG. Faith is such a sweetheart. She loves attention! We think she would be very happy to just be a "loved on" couch potato or sofa surfer. She will be affectionate, devoted and easy going. YOU CHOOSE ME? I HEART YOU! Please go online to fill out an application. The shelter will reach out by email or text to schedule a meet and greet.
$200 Adoption covers immunizations, spay/neuter, microchip, and 1 month of Heartworm Prevention. Faith should remain on Heartworm preventative for the remainder of her life.
Click the image below for a video of Faith visiting a volunteer.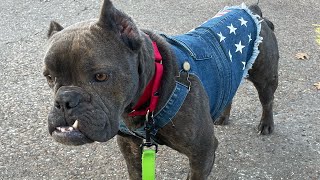 A volunteer hosted Faith for a few days. Faith is known as a major cuddler. She loves to be held when she sleeps or just lay by your side if you work from home. Faith does well on a leash, is calm in the car, easy to give a bath. She seems to be potty trained, but may take her a few days to learn your routine and environment. She is food motivated, which makes training for commands and cues easier. Faith does well with other dogs, but prefers the company of people petting her. Faith is a fast eater and would likely need a slow feeder bowl or be given small portions throughout the day.