Benji is the Greatest Showman! At almost 4 years old, this 8 pound Terrier Mix prances and struts like he just won the Westminster Kennel Club Show. He is fantastic on a leash, potty trained, friendly with children and dogs. He is an all around show-off that even has a hidden talent. He can catch his treats in the air! Benji loves to run as fast as his little legs will carry while playing in the yard. He has chased down a lot of toys, but has yet to bring one back to me. Something fun to work on! He is such a happy and energetic boy. Are you the lucky family that will get to take him home today? He is ready to play! Fill out an application on-line quickly. This cutie won't last long.
$200 Adoption covers spay/neuter, immunizations, and microchip.
Click the image below for a video of Benji visiting a volunteer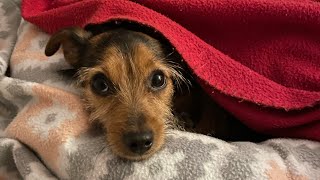 Benji spent time with a volunteer outside of the shelter and reported how sweet he is. Benji likes to be by your side, but not be in the way. He loves routines and learns them well on his own. Benji knows basic commands like sit and come. He is treat motivated which makes training easier. Benji uses the bathroom quickly when going outside. When taken outside he likes to explore and mark, but also enjoys his walks while doing well on a leash and responds to gentle leash corrections. Benji plays well with other dogs and enjoys toys. Benji loves going into the car and can jump very high. He fits in a carrier bag so traveling places with him is easy. He may develop separation anxiety and we would recommend crate training for him.